I'm so excited for this guys! I have a few beautiful real weddings lined up. One bride I'm familiar with from other wedding blogs and forums contacted me and asked if I could put together an inspiration board for her winter wedding.
I'm so in love with Hilary's chic interpretation of a winter pallet. She combined Christmas Red with pink, platinum, and brown. Hilary and James' wedding will be in Dayton, Ohio this December. She also has a San Patrick dress and invitations by Uglykitty (What a coincidence! So do I!). Her photographer is
Faye Sommer
out of Dayton, Ohio who also took their engagement photos (isn't that photo beautiful?). I can't wait to see how her pictures turn out. I'm sure the day will be beautiful.
So stay tuned! I'll compare the original inspiration board with the wedding details. This wedding will be coming this winter.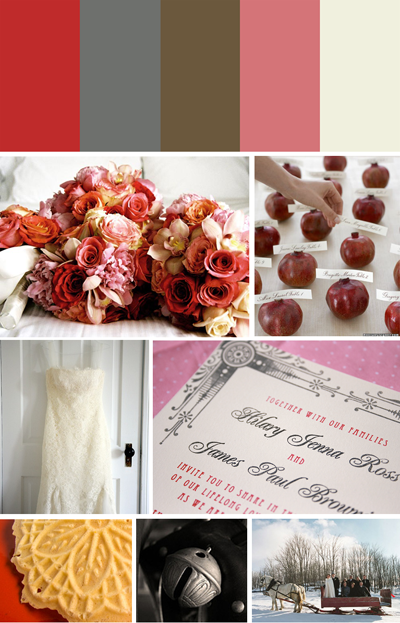 The inspiration is pulled from all over. She really loved elements of
this
board from
Snippet & Ink
as well as
Vintage Glam
's bridal style. The invitations pictured are their actual invites and were inspired by a pattern on her front porch!