Happy Saturday everyone!
Kat sent me a message when she saw I would be doing pallets and asked if I would help her pull together the elements of her wedding in a board and nail down some colors for her. She sent me an assortment of beautiful items, including her beautiful venue, OC by Oleg Cassini dress and amazing shoes. She knew she wanted blues with pops of yellow and pink. Some of the images she sent me had reds and even some browns mixed in as well. It may sound like a lot of colors, but in reality I think this is a great example of how a lot of colors can really work to create an event that doesn't feel matchy but coordinates beautifully. I really love the way it came together. Check out her blog,
Aevan Arts
to learn more about her wedding.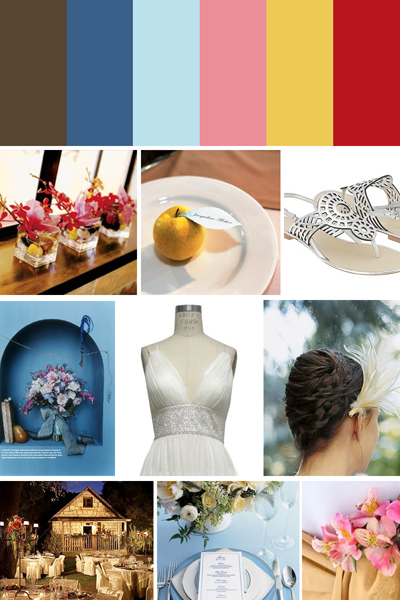 Call to action!
Also, Kat is on the hunt for a unique veil. If you have any resources for really unique and beautiful veils, please post them in a message! I'm always on the hunt for new resources.