Jared and I have started thinking about our Ohio reception now that the Oregon event is pretty well planned. We're having a BBQ at the park where we had our first date in Hudson, Ohio about a month after the wedding to celebrate with extended family and friends who couldn't make it to the wedding in Oregon. It's going to be very casual and crafty. We still want to have some wedding reception elements but didn't want to have a "mock wedding" since we will be already married.
A couple days ago I started browsing dresses for that reception. I certainly didn't want to wear my dress again (too formal). But I still wanted to look a tad bride-like. While browsing ebay I came across this stunner. I was immediately drawn to the lace. I'm such a sucker for texture. I think it will be so cute with my gold sandals from the wedding and a little fuzzy cardigan if it gets a bit chilly. Plus, it was a great deal and is something I can see myself wearing again and again. It was originally an Anthropologie dress and is brand new.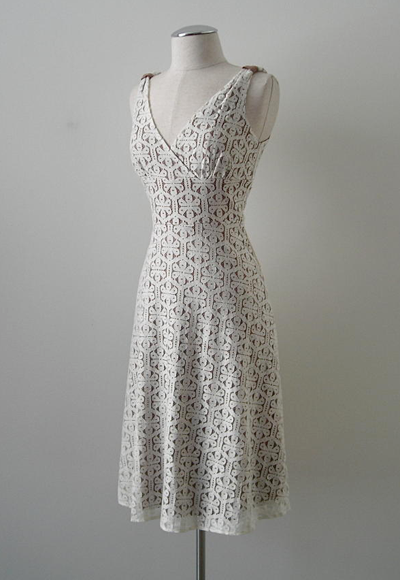 I'll share more details about our real wedding and our second reception as the months go on. Things are really starting to pick up now that we're less than a year out from the big day. It's so exciting. Time to start working on our Quebec City honeymoon!